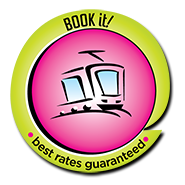 Inn @ northrup station
Not your typical downtown Portland hotel!
Originally built in the 1970s, Originally built in the 1970s, this unique Portland hotel was rediscovered and transformed by Portland architect Steve Routon. The exterior reflects the true character and spirit of Northwest Portland. Acknowledging the energy of the neighborhood, suites at the Inn allow guests the opportunity to interact with the street scene below from a series of private decks and patios accented with soaring trellises.
Our fabulous interior décor includes original artwork by local artists. The retro hip furnishings and energetic color palate both contribute to the eclectic ambiance of the Inn. Fully featured granite kitchens and wet bars and luxurious marble bathrooms are all hallmarks of this one of the kind hotel.
The Inn's vibrant lobby presents an arresting combination of color and artistry, not to mention the outrageously huge jars of mouthwatering candy that never seem to go empty. Satisfy your sweet tooth as you gaze up at the striking display of fused glass. Then belly up to the sleek street-side breakfast bar and watch the Portland Streetcar buzz on by.
An artistically landscaped rooftop terrace presents a wonderful setting for outdoor gatherings.
Artfully designed, the Inn @ Northrup Station is not only one of the top Portland hotels, but also known as a unique boutique hotel with a very distinctive Northwest Portland flair!