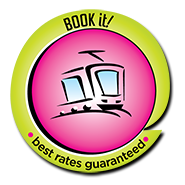 northwest portland
Northwest Portland is bursting at the seams with fun stuff to do! Art galleries, boutiques, restaurants-a-plenty, breweries, coffee shops, theaters, museums... and so much more!
The Inn is conveniently located along Portland's celebrated streetcar line, giving you easy access to fantastic boutiques and world-class restaurants. Just ask for your free Portland Streetcar tickets when you check in. Rain or shine, Northwest district Portland includes NW 21st and 23rd Avenues; best experienced from the sidewalk. On-site parking is complimentary, so leave your car with us.
Art Galleries
Nob Hill and the nearby Pearl District — Here you will find some of Portland's most inspired art galleries. Take a walk. Ride a streetcar. Northwest art and culture await you!
Boutiques
Bodacious Boutiques and NW 23rd — Shop your socks off! Just blocks away.
Restaurant Row
Tummy growling? Sashay down NW 21st or 23rd and you will find some of Portland's fabled restaurants. There's something to satisfy every craving. World-class dining. Quaint cafes. Enchanting bistros. More than 100 restaurants to be sampled, all within a 10-minute stroll from the Inn.
Breweries
Bottoms up! Portland is home to dozens of nationally recognized, award-winning craft brewers, and the Inn places you within walking distance of some of the finest!
Coffee Shops
Coffee shops galore! A morning ritual. An afternoon accelerator. Buddy-up to your favorite barista, Northwest Portland style.
Theatres
Live theater! First-run shows! The unusual. The offbeat. Theater Lovers — after the show... Come sleep with us!
Museums
Just a streetcar ride away! Portland Art Museum is always a popular destination.