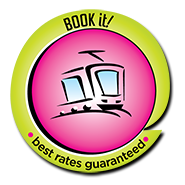 'inn crowd' guest loyalty program
As a member of the "Inn Crowd," not only will you continue to receive...
Complimentary Portland Streetcar tickets
Locally sourced continental breakfast served daily
On-site parking
Wireless internet access

You'll also receive special perks including...
Each stay counts toward earning a complimentary room night
Early check-in (subject to availability)
Late check-out (subject to availability)
Special promotions for "Inn Crowd" members only
Refreshments upon check-in

Click here to sign up for the Inn Crowd!

Earn complimentary room nights just for sleeping with us!
Every night you stay with us earns you one point.

Earn 20 points and receive a Gift Certificate for a one-night stay in the suite of your choice (expires one year from issue date and valid for Sunday through Thursday night stays only).

Terms and Conditions:
The Inn Crowd is free to join and there is no annual fee.
Points will only be credited to the guest whose name is on the reservation folio.
Reservations must be booked at www.northrupstation.com or by calling the hotel directly at 800.224.1180.